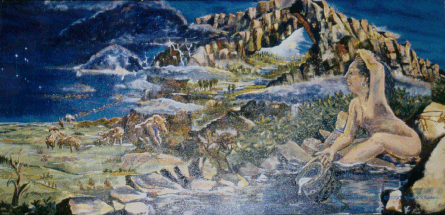 THE LAST BUFFALO HERD
©1996 Donald R Ricker
(45"x90" oil on hardboard)
---
Everything the people had came from the buffalo. When the railroads and ranches started cutting across buffalo range, war came to the Plains. A woman got up very early that morning to draw water from Medicine Creek. She looked into the red clouds of sunrise, and there she saw the last buffalo herd, a ghost herd, walking slowly through the clouded sky. Just as a storm began to break, great thunder rolled, and Mount Scott opened up a huge crack. The buffalo spirit herd walked right in. Inside was a place of great beauty, a springtime place with cottonwoods in bloom and the smell of new grass. When the spirit herd walked inside, the mountain closed behind them. The woman ran back to awaken her people and tell them the vision she had seen there in the dawn. When the elders heard her story, great sadness came to them. As the Kiowa people were dancing in the shadow of Mt. Scott, the great buffalo leader appeared in the constellation some people call Pegasus, to give hope to Indian people.
'THE LAST BUFFALO HERD' digital study was displayed Summer 1997 at the Night Walker Headquarters in FORT COLLINS, COLORADO
---
Those interested in the legends of the Native American peoples will enjoy the story telling styles of these authors; treat yourself to Joseph Brucac.
---