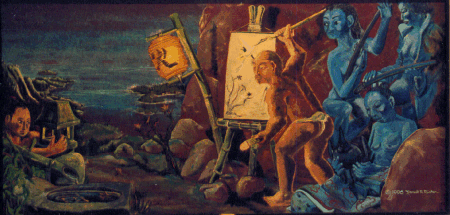 MUSASHI AT THE SCROLL
© 1996 Donald R Ricker
(46"x94" oil on hardboard)
---
Miyamoto Musashi, known to the Japanese as "Kensei" or "Sword Saint" is considered the epitome of the samurai as warrior and artist. A swordsman who taught the use of two swords, he was also an artist of considerable accomplishment. In 1643, he retired to a life of seclusion in a cave to dictate "The Book of Five Rings" or "Go Rin No Sho" to his pupil Teruo Nobuyuki.
"After that I went from province to province duelling with strategists of various schools, and not once failed to win even though I had as many as sixty encounters. When I reached thirty I looked back on my past. After that I studied morning and evening searching for the principle, and came to realise the Way of strategy when I was fifty. Since then I have lived without following any particular Way. Thus with the virtue of strategy I practise many arts and abilities-all things with no teacher. I take up my brush to explain the true spirit of this Ichi (school). The time is the night of the tenth day of the tenth month, at the hour of the tiger (3-5 a.m.)
With your spirit open and unconstricted, look at things from a high point of view. You must cultivate your wisdom and spirit. Polish your wisdom: learn public justice, distinguish between good and evil, study the Ways of different arts one by one. When you cannot be deceived by men you will have realised the wisdom of strategy. Then you will come to think of things in a wide sense, and taking the Void as the Way, you will see the Way as Void."
Musashi at the Scroll was exhibited February 1998 at the Toast Gallery in Anchorage AK
A detail from Musashi at the Scroll was included at the Renaissance 2001 Exhibition October 23 -24, 1999 online and at the University in Kanagawa outside Tokyo, Japan
---