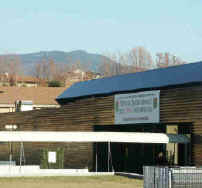 2001 BIENNALE INTERNAZIONALE DELL' ARTE CONTEMPORANEA III
page compiled by artsceneak.com updated 09/29/05
The third edition of the Biennale dell'Arte Contemporanea took place from December 7 - 16, 2001 in the expansive exhibition spaces of the historic Fortezza da Basso in Florence.
The Florence Biennial is a convocation of the world's professional artists in all their diversity. One of the most important aspects of this show is the personal interaction among artists, art critics and visitors.
The main goal of the Biennale was, in fact, to give as many talented career artists as possible the opportunity to exhibit their latest works and to make their presence felt in a panoramic survey of what's happening at this minute. There has never been an international show with a more direct connection between the artist's studio and the exhibition walls. The artists are selected only for the quality of their works, without any prejudice as to style, theme or school; as a result the traditional and native forms of art also receive an opportunity to appear on the international scene.
An international panel of jurors was made prestigious by the inclusion of estimable authorities Dr Veronika Birke, Sra Matty Roca, Dr Stefano Francolini, Ms Barbara Rose, Sra Ortega Coca Teresa, Mr David S Rubin, as well as co-hosts and organizers Pasquale Celona and Piero Celona, and Biennale director Dr John T Spike. The Jury awarded multiple Premi di Lorenzo il Magnifico medallions in Painting, Sculpture, Works on Paper, and Photography, and for other worthy purposes.

The recognition and importance of the Florence Biennale has consistently increased since its inauguration in 1997 with 317 artists from 17 nations. In 1999, 520 artists came from 31 nations. For 2001, more than 600 artists from 52 countries participated at Florence, including, for the first time, artists from China and Cuba. The complete list of countries and territories represented includes: Austria, Argentina, Australia, Belgium, Brasil, Canada, Canary Islands, Chile, China, Colombia, Croatia, Cuba, Czech Republic, Denmark, England, Finland, France, Germany, Greece, Israel, Italy, Japan, Korea, Mexico, Netherlands, New Zealand, Oman, Panama, Poland, Puerto Rico, Russia, Slovenia, South Africa, Spain, Sweden, Switzerland, Taiwan, United States of America, Venezuela and Yugoslavia. " ---- excerpted from the artestudio press release page.
alla Memoria: in honor of the recently dead

Fernando Pereznieto (Mexico)
Attilio Bizzarri (Italy)
Cayetano Toledo Puche (Spain)

Congratulations to the recipients of these Lorenzo il Magnifico medallions from the City of Florence 15.12.01
alla Carriera: in recognition of distinguished careers

Angel Luis Ferri (Argentina)
Denyse Beaudry Leduc (Canada)
Domenico Antonio Tripodi (Italy)
Josefina Brunes Riera (Spain)
Renata Minuto (Italy)
Hanns Leeb (Germany)
Franz Joseph Lenzinger (Switzerland)
Antonio Cersosimo (Italy)
Basil AlKazzi (Monaco)
Edda Mag Mally (Austria)
Adger W Cowans (USA)
Vincenzo Calli (Italy)&127;
Jonathan Talbot (USA)
Cheng,Hsiung Chen (Taiwan)
Cecilia di Fiore (Italy)
Manuel Kalaitzakis (Greece)
Clelia Cortemiglia (Italy)
Roberto Manetti (Italy)
Fotografia - Digital: Photography based computer enhanced

1) Christina Calbari (Greece)
2) Wei Liu (China)
3) Jeff Prentice (USA)

4) Gregor Hartmann (Austria)
Alberto Piovano (Italy)
Alberto Gandsas (Argentina)
Wilma Cruise (South Africa)
Basil Colin Frank (Israel)
Fabrizzio Fiorenzano (Italy)
Angel Orensanz (USA)
Adriana Pastori Bandell (Germany)
Liaa Lapithi Shukuroglov (Cyprus)
Zelko Wiener (Austria)

5) Stanley Moss (USA)
Arturo Rodriquez Torija (Mexico)
Natxo Lemborain (Spain)
Ann-Kristin Kallsstrom (Sweden)
Juan Diego Monsalve Mejia (Columbia)
Emilio Espinoso Cruz Gonzalez (Mexico)
Diego Ortiz Mugica (Argentina)
Grafica, Opera su carte: Drawings, Mixed Media (works on paper)

1) Daniel Butala (Croatia)
2) Cho Mi Young (South Korea)
3) Raine Bedsole (USA)

4) Timothy Chapman (USA)
Irasema Lily Aguilar Panizzo (Mexico)
Hong Ji Yoon (South Korea)
Pnina Gorali (Bulgaria - Israel)
Berit Schuman (USA)
Leslie Sardinas (Cuba)
Andrew Young (USA)

5) Dennis Campay (USA)
Helga Mehringer (Germany)
James Langston (USA)
Karl Hikade (Austria)
Margarita Cristina Arreola Cates (Mexico)
Zdravko Toic (Croatia)
Barbara Cheshire (Australia)
Christa Mayrhofer (Austria)
Daniel Pesta (Czech Republic)
Ricardo Cinalli (Argentina)
Hany Darwish (Egypt)
Premio Installazione: for installations associated with the biennale

Angel Orensanz (USA) Performance at the Ponte Veccio.


Alexis de La Sierra (Venezuela) in show installation


Shih Fen Liu (Taiwan) neon


Casagrande & Rinta la (Finland) Wall of Books in Piazza della Republica

Pittura: Painting

1) Tatiana Chirikova (Switzerland)
2) Karen Gunderson (USA)
3) Jorge Alberto Gonzalez (USA)
Knut Pani (Mexico)

4) Leigh Wen (USA)
Barbara Schwartz (USA)
Mark Bornowski (USA)
B en Sakoguchi (USA)
Henry Schoebel (USA)
Carsten Svennson (Denmark)
Maja Kihlstedt (USA)
Don Kimes (USA)
Pavel Besta (Czech Republic)
Rossella Vasta (Italy)
Roman Franta (Czech Republic)
Robin Lise (France)
Nestor Luis Sarmiento (Argentina)
Gustavo Machado Gallardo (Mexico)

5) Ana Isabel diez Zuluaga (Columbia)
Paul Lorenz (USA)
Nathan Brujis (USA)
Anthony Pessler (USA)
Frahn Koerner (USA)
Liliana Carerj (Italy)
Philhelm (France)
Maria Helena Moura Poinha (Mozambique)
Ignazio Fresu (Italy)
Franco Albano (Italy)
Frank Ferrie (Scotland)
Frank Mann (USA)
Mo Jee Sun (South Korea)
Alexei Zhemtchuzhnikov (Russia)
Gerlinde Kosina (Austria)
Marcel Barbeau (Canada)
Norma Bessouet (USA)
Qi Luo (China)

Scultura: three dimensional objects

1) Fred Eversley (USA)
2) Armen Guerboyan (Egypt)
3) Lynn Aldrich (USA)

4) Leza Lidow (USA)
Basha Ruth Nelson (USA)
Shelley Parriot (USA)
Arturo Macias Armenta (Mexico)
Virgilius Moldovan (Austria)
Nelida Beatriz Buratti (Argentina)
Diana Calvillo de Chapa (Mexico)
Carole A Feverman (USA)
Marco Mariucci (Italy)
Tina Lupo (Italy)
Salvador Susarte Molina (Spain)

5) Ana Maria Montes de oca de Zablah (Mexico)
Jesus Trapote Medina (Spain)
Emil Bobanovic Colic (Croatia)
Paul Du Toit (South Africa)
Louis Mendez (USA)
Daniela Lucia Zanelli (Italy)
Steleos Gavalas (Greece)
Paolo Fabbri (Italy)
Jurij Dobrila (Slovenia)
This list is made more dignified by the fact that my name is not on it, but I still think Seven Sisters was in a class of its own. My involvement was made possible by the enthusiasm, encouragement and support which I received. I would like to thank all of the following as well as any others who may go unmentioned:
Piero e Pasquale Celona, John Spike, Alaska State Council on the Arts, Harry Ricker, Cliff Stevens, Howard and Diane Stevens