© 1999, 2000 Donald R Ricker Page updated 08/09/01.
---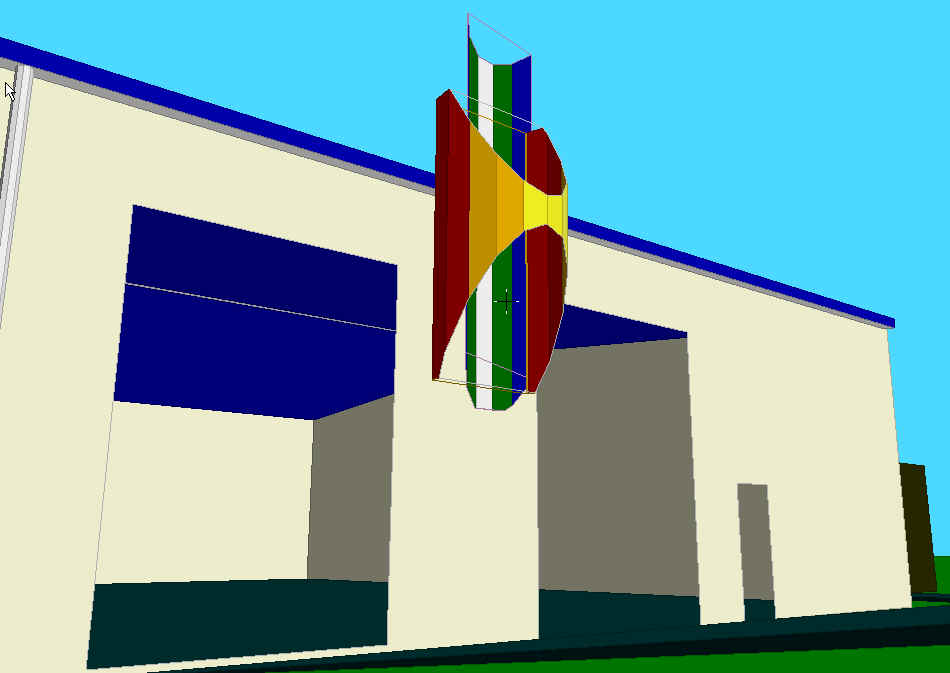 7/30/01 submittal Municipality of Anchorage EAGLE RIVER FIRE STATION sculpture concept
TRUST is the title of my concept proposal, which may be experienced in the 3D virtual environment in which it was designed. It is a site specific piece designed to combine elements of the traditional EMT & Fire Station icons while suggesting the mountainous and river rescue elements of #11's mission.

7/29/01 exhibition International Gallery of Contemporary Art FLOATABLE ART at the Westchester Lagoon. one day only 11am-3pm
"'We pull up there, and we stick things in the water and we hope they float,' said one of the event's organizers. In a makeshift rowboat carved from a foam block, artist Don Ricker towed out a wooden frame on floats that explored the idea of 'sustainability' with a torn sheet and some sort of hanging globe." --- Anchorage Daily News reporter Doug O'Harra 7/30/01.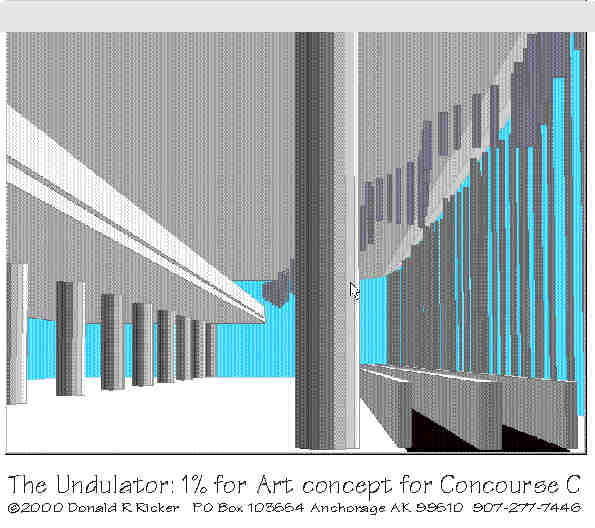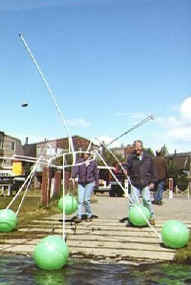 6/17/00 I titled this funny waterbug the Bouyant. The photo shows Don Decker (right) and Julie Decker pulling it out of the water at the end of the day. Bouyant was made just for fun! You would like to have one like it bobbling around out by the dock at your summer camp.It also was featured briefly on two of the three local nightly newscasts in an uncredited but still pleasing way. The newspaper gave advance mention of the impending installation (another FLOATING ART cf below) in an article about the Mayor's Marathon race in the sports section , which was a cool first! Again, nothing specific in reference to individual artists, which takes the PR value from direct to indirect.
However, comments from direct onlookers as Bouyant was invented and assembled at Westchester Lagoon in downtown Anchorage ranged from "What's that supposed to be?" to "Magnificent". I had to hop into my Flintstone boat and paddle out to sea to get away from that ardent admirer!
---
12/31/99 I assisted by making the armiture for this six foot breaching Orca whale for the Copper Whale Inn in downtown Anchorage. It was covered with black lamé and white leatherette and had a ring of blue lights. Totally meant to be best seen and appreciated in the darkest part of the year, as a temporary decoration for a hospitality business client.
---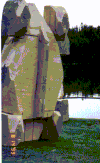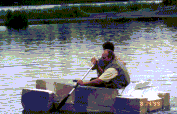 8/16/99 FLOATING ART SCENE was the headline in Sunday's Anchorage Daily News describing the unique group installation project at the Lagoon. Dozens of children and their parents were spontaneous contributors. To quote reporter Karen Aho in part, "Don Ricker, a grown-up artist, had used chain saws to cut two rafts from 2'x4'x8' blocks of styrofoam. The cinderblock gray crafts looked like the Flintstones at sea, but ended up stable crafts and the viewing platforms of choice." My mom in Philadelphia was delighted that I am now, officially, grown-up.
Floating Art at Westchester Lagoon
---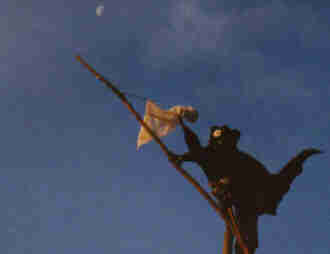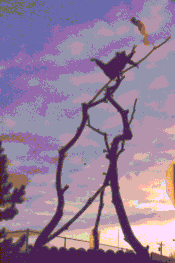 ALDER SPIRIT
1998 (11' height x 5' diameter alder & cloth)
Just before winter in farming communities, harvest figures appear. I continue the tradition on my urban patch here in Anchorage.
This one honors our pets and the pesky spirits of the dead who can't be caught or chased away. It is made by boring and tenoning the alder with alder branches, the cat is made of a continuous strip of black cloth with branches for claws, and the spirit is a tennis ball on a brass rod wrapped with a bit of white lace. I had just finished a book on contemporary Japanese sculpture when I created the spare, natural look of this sculpture. It was happy fate that provided the moon as borrowed landscape when the picture to the right was taken.
---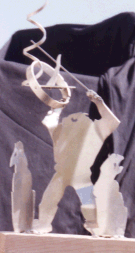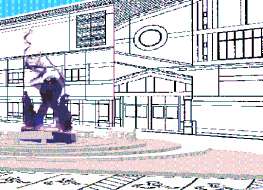 HOWLING MAN
---
'Howling Man' portrays two howling wolves accompanying a human who bangs a drum with a stick. Their spirits together release the creative idea around the clock
This cut and folded aluminum sculpture measures 18"x11"x4" on its wood base and is a model for a fabricated steel sculpture roughly to the same dimensions in feet (18'x11'x4') on a concrete base. It is intended to be imaginative, impressive, and to serve as an unofficial mascot for the student population.
It was submitted to an open competition for the Percent for Art commissions associated with the Fairbanks School District West Valley High School expansion. The picture at right, the artists conception, is a virtual in situ representation made from overlaying a scanned photo of the model on to a 3-D mockup textured with the elevation and plans.
---

3GRACES 1997
(11"x17" digital image, 12' x 45" enamel on cloth, internally lighted)
The three graces are a traditional figure group of women with their arms entwined dancing in a circle. This print and the tall cloth scrolls are enlargements from a thumb size drawing done with a feeling of dancing, bubbling, and upward spiritual growth. Flickering white lights inside the cloth add life to this sculpture, which is mounted outdoors during the dark months of the year.
3GRACES was exhibited during December 1997 in a group show 'BEYOND THE SKETCH PAD' at Toast Gallery in Anchorage AK and the study to the left appeared on the Arts Calendar page of the 12/5/97 issue of the Anchorage Daily News
---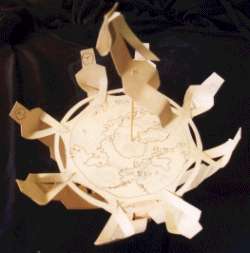 POLAR BLANKET TOSS
Polar Blanket Toss is a mockup meant to portray the Peoples of the North Polar regions collaborating to toss one of their number into the air to scout the horizon.
The photo shows a cardboard prototype of the sculpture, meant to be realized at roughly 10 feet in diameter and proposed for a $100,000 private commission in downtown Anchorage. Hugh McPecks jolly bronze bear and raven was selected and has since been installed.
---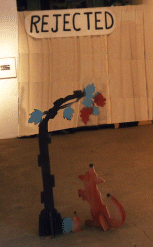 FOX and GRAPES
When Musashi, Pintura, and Last Buffalo Herd were all passed over by the juror for the Biennial All Alaska show last winter (!?!), I created this little sculpture. I think it displays, but doesn't explain, the spirit of the artist's longing for wider recognition. It was shown at a private downtown gallery in a group exhibition 'Salon Des Refuses'. Today it is wrapped in houseplants on a shelf near a window... looks great!
The following appeared in our local newspaper under my name in the Letters to the Editor at that time...
After jumping unsuccessfully and repeatedly, one exasperated fox became convinced that the grapes were unpalatable after all. No, the grapevine itself was not serving the needs of foxes!
Over two hundred Alaskan artists, confident of their work, paid to prepare slides and paid submission fees to enter them in the 1998 Jurored Art exhibition at the museum. An outside Juror shuffled these photos of paintings, sculptures, and photos. Initial selection was made on the quality of the slide rather than the work itself.
The Juror selected the finalists by walking around, with no 'pre-set agenda' other than no bears or wildlife. The museum granted freedom to follow aesthetic 'instinct' and BAM! A small, repetitive show was hung side-by-side in a dim back room. Over eighty percent of Alaskan artists are excluded from the state's most important jurored show. The purpose of a statewide jurored art show is to be INCLUSIVE, not exclusive. A true jury of several peers screens out only seriously flawed works. The rest are hung salon style in the institution's largest room. More artists, more public interest, and more profit all around.
Still, even though the fox had a degree in grapes, had jumped for the grapes for nearly two decades and had often succeeded at reaching other grapes, there it was standing winded under the same elusive branch. If only the keeper of the trellis would loosen up the vine a little.