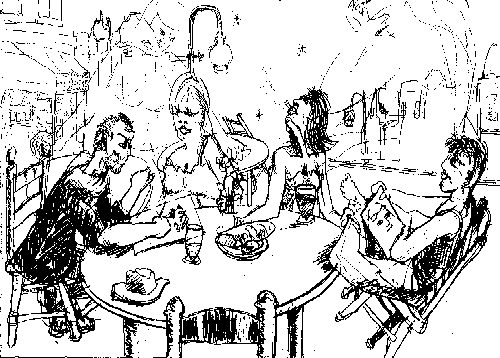 PORTRAIT BATTLE
studies and unfinished detail
'Portrait Battle' is an imaginative conception of the friendship between Vincent Van Gogh and Paul Gauguin as they planned portraits of each other in easy company at their outdoor cafe.
drawing © 1997 Donald R Ricker
'What splendid thoughts can be invoked by shape and color! How pedestrian academic imitation of nature. We alone sail forth on our phantom ship with the full cargo of our imaginative imperfection.' --- Paul Gauguin 1888
---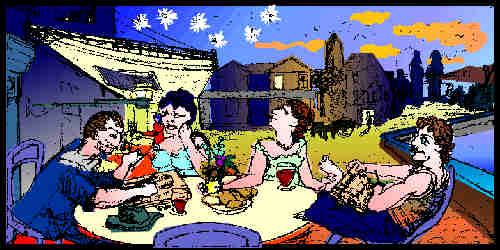 final digital study for Portrait Battle
©1999 Donald R Ricker
"Gauguin & I may not live to... conquer, but neither shall we be conquered; perhaps we exist...to give consolation." --- Vincent van Gogh 1888
---
Vincent's brother Theo supported him in exchange for his paintings, yet could not sell any of them. Vincent wrote, "I will be much happier to be able to say bluntly that you prefer to keep my work for yourself and not sell it, than that I should have to join in the scuffle for money just now. Honestly. Besides, supposing that what I am doing is good, then we shall not lose anything in the money line, for it will mature quietly, like wine in the cellar."
---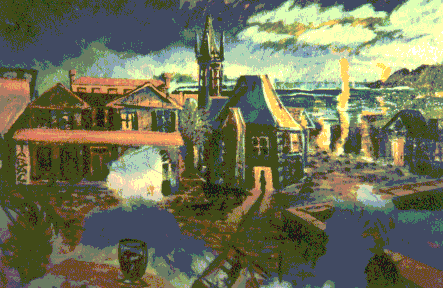 November 20, 1998, Vincent van Gogh's 'Portrait of the Artist Without Beard' sold at auction for more than $71,000,000.
In the detail at left of the unfinished Portrait Battle, the figures of Gauguin and his wife Mette seem ethereal as the sky and sea beyond them. Arles metamorphosizes into Pont Aven into Tahiti beaches even as the smoke from a passing train turns into the rolling breakers .
---
Portrait Battle Study was exhibited at a group exhibition at the Orensanz Foundation in NYC, NY December 1999-January 2000
PORTRAIT BATTLE painting | View next painting | Return to list of paintings