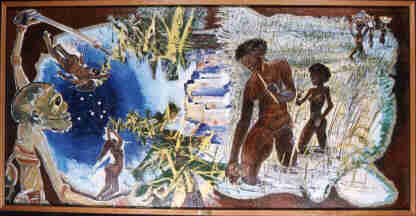 THE SEVEN SISTERS
©2000 Donald R Ricker
(46"x94" oil on hardboard)
---
Wurunna was trekking the outback of western Australia when he came upon the Mayi-mayi sisters also traveling. They were friendly; they offered him food and allowed him to camp there with them one night.
Next morning, he pretended to leave early. The sisters laid down their yam sticks as they gathered around an ant mound to eat breakfast. By stealing their yam sticks, he was able to kidnap two of them when they were separated from their sisters.
---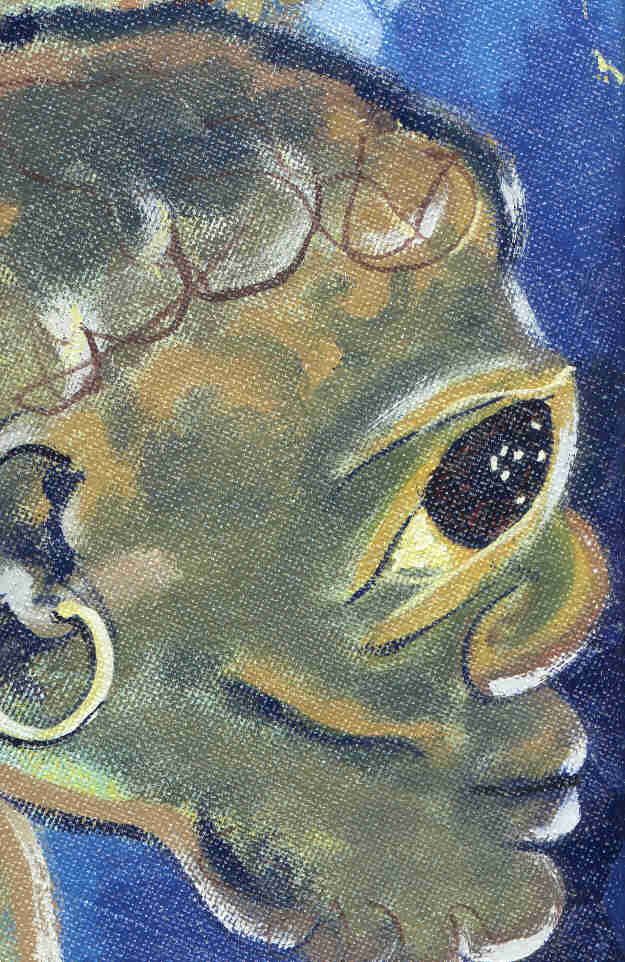 When he felt he had evaded pursuit, he sent his two captives into the pines to cut bark with their stone axes (kumbus). The lazy one learned to his disbelief that the pine trees had lifted the two women by their kumbus to a dizzying height from which they heard the voices of their other five sisters calling out to join them as stars in the constellation that black men call Mayi-mayi and white men call the Pleiades.
---
Seven Sisters appeared in a solo exhibition at the D Street Cafe in Anchorage AK November 2000, and will appear in the group exhibit BIENNALE INTERNAZIONALE dell'ARTE CONTEMPORANEA in Florence Italy December 2001
Seven Sisters study | Next Painting | Paintings list
detail of Wurunna from The Seven Sisters
please do not rub your fingers on the screen ...
if you can help it!