By Suzie Buchanan
Painter Donald Ricker has a very cool website
with a lot to see and even more to read — he's no dime-a-dozen watercolor/wildlife/tourism sell-out. You won't confuse his work with a designer Kleenex box, no; his paintings draw inspiration from historical events and myths.
Take "Party for Rousseau":Ricker depicts the artistic milieu of Paris, 1908, with rich, velvety tones and stylized characters. Those in the know can pick out Pablo Picasso, Guillaume Apollinaire, Georges Braques and Gertrude Stein among the guests at a banquet with Big Daddy Henri Rousseau himself: In the garden is Rousseau's tombstone, inscribed in chalk with a poem by Apollinaire (along with the paint and brushes the poet left at its foot to accompany his dead friend to heaven);

Gentle Rousseau you hear us;
We salute you,
Delauney, his wife, Monsieur Queval and I.
Let our bggage through free at heaven's gate.

We shall bring you brushes and paints and canvas
`So that you can devote your sacred leisure
In the light of reality
To painting the way you did my portrait
The face of the stars.

That's a bit deeper than a field of fireweed or a snowcapped Denali hanging above the fireplace, no? These are paintings that tell stories, paintings that make you think and dream. If you're intrigued by this description, you'd be silly not to examine them in person when his 'Alaskan in Florence' show opens at the D Street Café to coincide with this month's First Friday exhibitions.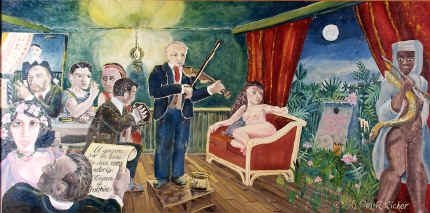 ---
Ricker puts a good deal of thought into the subjects of his paintings; he's serious about who and what he cooses to depict. 'Artists have unprecedented access to the cultures of the world and the lessons of the past,' he writes on the website. "My effort has been to learn, extend, and teach these lessons in a snarrative, figurative, and allegorical format. I select my subjects from around the world and from among different peoples and times. I attempt to freeze meaning, action, and setting into a beautiful, thoughtful object which brings lasting enjoyment and divulges its greatest inseights only to those who are prepared to understand.'
This doesn't mean you need to bring a set of encyclopedias with you when you go to the D Street Café show, but delving a little deeper into what you're viewing can only asdd another dimentsion to your experience.
Ricker works as a sign-maker, a career he got into when he painted letters on a fire truck in New Hampshire a s a favor for a friend --- you've probably seen his work at the downtown bus terminal or at the Marx Brothers without even reealizing it. The commercial grind of his career led him to seek other outlets for his creativity. He may also have been frustrated by the fact that sign painters usually don't get to send hours delineating the forms of frolicking, naked women with perky tits.
Nudity is an important element in his work, and to jucdge from some of the messages in his on-line guest book, he appears to have a t least several willing models-in-waiting. He's even entitled a series of paintings The Nude Excuse. (Lonely artist-types, take note: guitars aren't the only way to a girl's heart. Just ask Leo and that fat chick from "Titanic.")
The Alaskan in Florence exhibit referes to Ricker's impending partiscipation in the Biennale in Italy in December. Another interesting aspect of the show is that Ricker is auctioning off a two-year lease for two of his paintings, the aforementioned Party for Rousseau and Change of Seasons. The inimitable Crystal Hutchens will provide musical entertainment for Friday's reception, beginning at 6 pm at the new and improved D St. Café. With owner / chef Nure just back from France, this would be an ideal place to end your gallery walk and have dinner surrounded by cool stuff on the walls.

---

Donald Ricker's An Alaskan in Florence can be seen through September at the D Street Café, 427 D Street. A reception will begin at 6 pm and last until it gets too rowdy.