THE SEVEN SISTERS
©2000 Donald R Ricker
studies and details
---
Australian Aboriginal cultures have their own very distinct approach to art and to painting. The core concepts have a universal resonance none the less. Artists around the world are incorporating religious aspects and the creative wellspring called the Dreaming, map making and mark making qualities, the viewer perspective based on viewing the painting from all sides while working on it on the ground, and the iconic representation common to Aboriginal bark paintings.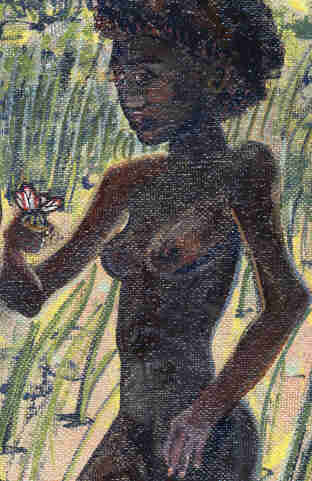 Aboriginal life was lived in the nude, but figurative art had an x-ray quality which defined humans and animals by portraying their physical innards inside the drawn contour of their outline. The figure of Wurunna was modeled after rock carvings from three thousand years ago. Aboriginal art has a continuity which connects the marks of the bark paintings with the dots and lines of body painting.
---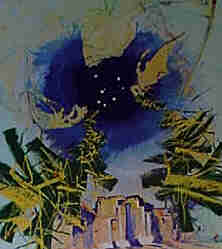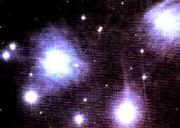 These markings have a proprietory nature and the full instructional value of the paintings are not divulged to those who have not qualified to understand or who are disrespectfully motivated. The stars in the constellation Pleiades have the distinction of being credited in 'primitive' cultures around the world as an origin point for the colonization of Earth.
Seven Sisters painting | Paintings list
unfinished detail from The Seven Sisters
---
Seven Sisters appeared in a solo exhibition at the D Street Cafe in Anchorage AK November 2000, and will appear in the group exhibit BIENNALE INTERNAZIONALE dell'ARTE CONTEMPORANEA in Florence Italy December 2001