WHAT'S was NEW 2000
all text and images © 1999,2000 Donald R Ricker and EXEGY.com all rights reserved
9/14/01 deadline Seattle Arts Commission seeks works considering issues of sustainability for PARK 90/5 budget $60000 Open to artists in WA OR ID AK MT BC contact Ms Ruri Yampolsky 206-684-7309 ruri.yampolsky@ci.seattle.wa.us who sent this explicative reply to my inquiry:
Sustainability typically refers to issues of conservation, making use of resources without depleting them. In architecture, it might be what's typically called "green" architecture, perhaps using solar or wind-power, re-used materials, etc. With landscaping, one would expect perhaps use of native and drought-tolerant plantings. With artwork -- ? It's up to the artist to interpret this.
9/7/01 deadline HOMER MARINE CENTER building has budgeted $50000, invites artists to submit qualifications. Contact Carolyn Shelton 360-793-2549 RIM Architects, 909 West 9th Ave #500, Anchorage AK 99501
9/00/01 deadline Seattle Arts Commission seeks works revealing an urban creek RAVENNA & COWEN PARKS budget $30000 for design phase, implementation funds not yet determined contact Maureen Newby 206.615.1878 maureen.newby@ci.seattle.wa.us
9/24/00 I was happy to receive this note from Ms Jocelyn Young re 1% for Art results:
TRAILSIDE ELEMENTARY - not determined yet
DIMOND HIGH SCHOOL - not completely determined yet
CREEKSIDE PARK ELEMENTARY - not determined yet
NEW RUSSIAN JACK ELEMENTARY - Cork Marcheschi, Linda Infante Lyons and Gale McCall
GOVERNMENT HILL - Juan and Patricia Navarette, David Govedare, Vivienne McConnell and Linda Infante Lyons
OCEAN VIEW ELEMENTARY - Ken Spiering, Michael Anderson
ANCHORAGE REPLACEMENT JAIL - Kim Brown and Jim Hirshfield and Sonya Ishii

GIRDWOOD FIRE STATION - Joy and Drew Motsinger (recently installed)
PTARMIGAN ELEMENTARY SCHOOL Dan DeRoux (recently installed)

MULDOON ELEMENTARY SCHOOL - Gerry Newcomb (Being installed this week)

This is so exciting! Congratulations to these enterprising artists.
9/5/00 Fifteen thousand visitors and climbing since the inception of my site and some new stuff added recently, including Alaska Art Calendar, which is an opportunity to post dates, names and places of visual artists' events and exhibitions which are of interest to the Alaskan art community. cf also the Italian and French versions of the intro page, and the new system of details and salesmanship which explicates Party for Rousseau.
8/15/00 deadline passed ITNA ALASKA RAILROAD CORPORATION seeks letter-size sketch proposals for yearly commemorative poster/print/lapel pin design. 24"x36" image desired depicting a train suitable to family viewing. "Remember that railroad enthusiasts around the world will consider the image a collector's item." Selected artist or artists (next year's may also be selected in this round) will receive a $4000 commission and 25 copies of the poster made.. Contact: Louis Gire at Northwest Strategies, 360 West Benson #200, Anchorage AK 907.563.4881 akrrposter@northweststrategies.com http://www.alaskarailroad.com
$4000 and 6/10ths of a percent of the poster run of 4000 (to be sold at $25) and no percent of the so-called limited edition print of 750 (sold at $50). These are presumably photolithographs of the original work just like the posters but without advertising copy and on better paper suitable for framing. Payment is made on receipt of accepted painting, not upon selection for the commission, which makes commission a misnomer, since it means payment in advance. As you can see the ARRCorp is not constrained by any of the usual ethics of the publishing industry. If you are lucky enough to be selected, and they are lucky enough to sell out their press run of your outstanding design, they will have raised $137,500 and given you $4000 (disregarding the posters, please) and undoubtedly had you sign your copyright interest in the image to them as well as secured the original. My mathematical calculations put this at worse than a 97/3 split of proceeds. There are always artists of great talent who vie for this type of opportunity. Who negotiates for their interests? Whose creative talent generates the sales?
8/15/00 deadline passed ITNA INUIT CIRCUMPOLAR CONFERENCE seeks Inuit artists to submit designs for an international logo and is offering prizes of $6000, $3000, & $1000. Inuit is a word meaning 'the people' as in 'real people' so I think they will accept proposals from anyone native (to this planet). Contact Andrei Jacob, ICC Alaska, 401 East Northern Lights Blvd #203, Anchorage AK 99503 907.274.9058 Alaska, Canada, Greenland, Russia http://www.inuitcircumpolar.com
BTW, if these decision makers have $10,000 to spend and they want to make their pick of fully developed logo designs then they should contract 20 artists at $500 each and choose from among those without the false competition of freely providing hopefuls. Still, this is much more lucrative than another simultaneous logo grab by a local ethnic artist group where the only reward for anyone is a mention of their name at a convention. I will not provide contact details for these types of exploitation schemes, the ICC is an exception only because of it's high dollar value. (I've established what I am, now I'm negotiating price!)
8/14/00 "I am sorry to say these slides must be returned, for it means that Carl Belz did not select them for this year's Pacific Coast edition of New American Paintings #31." Better luck next year, deadline 6/30/01. More than 1000 artists submitted slides for this open competition (cf below). Congratulations to those selected.
8/14/00 deadline ITNA my bad attitude TRAILSIDE ELEMENTARY (cf below) 1% for Art seeks one-page 11"x17" concept proposals with slides & bona fides for interior artwork for which $95,000 has been budgeted. windows in commons area theme of school is color coordinated corridors blue for ocean, yellow for air and green for earth. librarian requests something to obscure view into library because 'students like to knock on the windows at their friends'. Those brats! contact Jocelyn Young, 907.343-6473 or youngjy@ci.anchorage.ak.us
8/12/00 commissions awarded PUBLIC HEALTH LAB 1% for Art has selected Dana Broussard for the screen wall, Barara Yawit & Andy Dauoust for the outdoor folie, Sandy Stolle, Guitta Corey for the ID room, and Sheila Wyne for the corridor niche. Congratulations ladies, and gentleman. Special thanks toASCA Associate Director Shannon Planchon for a nice positive pass letter. It finessed the issue about whose slides didn't make it by congratulating the winners by name.
7/24/00 WE REGRET TO INFORM YOU Received my rejection letter from VerySpecialArts of Washington No Boundaries exhibit. Interestingly, their letterhead has the catch phrase, "Access to the Arts for All". Not excepting the not-Don rule, of course. Thus closes my last opportunity to have work hung in my local museum for the foreseeable future extending to 2003.
http://www.creative-capital.org/ has an interesting scheme going for mid July announcement. Sneak preview http://www.creative-capital.org/application/index.html
7/21/00 no deadline no abstracts! I applied today. The Elizabeth Greenshields Foundation offers grants of $10K (Canadian) to rep. & figurative artists working in painting, drawing, printmaking & sculpture. INFO: Elizabeth Greenshields Foundation, 1814 Sherbrooke St. West, Ste. #1, Montreal, Quebec, CANADA H3H 1E4 or 514/937-9225 or egreen@total.net
6/22-7/20/00 exhibition closed ALASKAN PHOTOGRAPHERS Matt Johnson, Hal Gage, and Dennis Widmer exhibited black and whites from the great land at the PhoenixArts Gallery in Brighton England. http://www.phoenixarts.free-online.co.uk/exhibition3.htm
7/19/00 deadline passed, I submitted D U A L I T Y, sandblasted text on glass block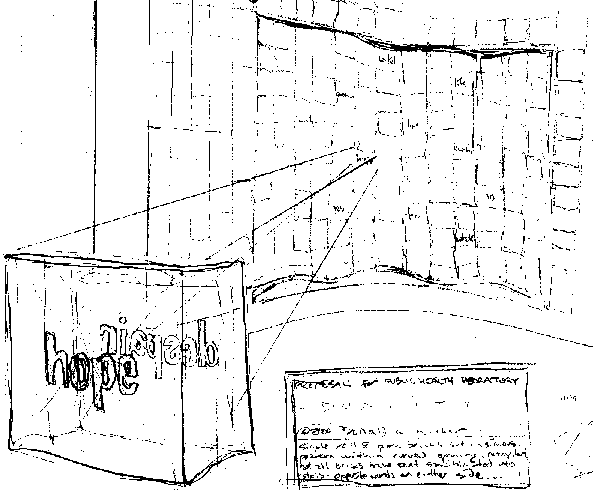 STATE MEDICAL EXAMINER & PUBLIC HEALTH LAB has a budget of $142,000 for work that refelects a scientific and precision theme and enhances the facility as a "Center for Excellence". BTW, this is a morgue. Screen wall glass work, entrance 'folly' (I think they mean folie), fiberwork for 'special room where families are shown sensitive and emotional materials, low priority corridor niche. all for concept proposals 11x17. contact Shannon Planchon, Alaska State Council on the Arts, 411 West 4th St. Anchorage AK 99501-2343 907.269.6610 http://www.aksca.org
7/10/00 deadline passed I submitted Cariatide and Ignuto drawings. NO BOUNDARIES X tenth annual VSAW traveling exhibition for artists with disabilities. This exhibition is scheduled for six different venues in four states, including the Anchorage Museum. Although I don't like to think of myself as disabled, I do qualify and this is a good opportunity for others, also. Contact Bittin Duggan, Exhibit Director, VSA arts of Washington, 305 Harrison St #303, SEATTLE, WA 98109 206.443.1843 "Of 119 pieces entered, only 35 were chosen" by Jurors Jan Rogan, Annie McElhinney, Daniel A Lafferty, John Hillding, and Michael Lowe. Hopingly some among the chosen were from Alaska.. My artwork was not accepted into this year's exhibit, which actually startled and disappointed me! Comes from having that little bit of hope... On the plus side, I can keep Cariatide on the wall in my dining room.
7/2/00 note from Matt Johnson in London: "The show is looking great. Some have said its the best they have seen at this gallery. The newspaper is sending a photographer over today." Congratulations to AK in UK! http://www.brightonweekend.emagcentral.com/23_1.html
6/30/00 deadline passed I sent my stuff in late anyway. Maybe I'll be first in line for next year. ARTISTS RESOURCE BANK competition of Washington State Arts Commission choosing from slides to be on short list for review by selection committees for purchases and commissions in WA. ChristelR@wwsac.wa.gov or visit http://www.wa.gov/art 360.753.5894 234 East 8th Avenue PO BOX 42675, Olympia WA 98504-2675 This state arts commission is very enlightened and operates the program for the maximum effect to the most possible artists by design. Open to artists in WA, OR. ID, MT, WY, AK and BC, and by invitation to other artists nationwide."In order to maximize opportunities for artists and develop a varied collection, no more than 5 artworks by WA artists (3 pieces from out-of-staters) are acquired each biennium and artists may only be commissioned once in three years. Works become part of the State collection and all are sited in public spaces."
6/30/00 deadline passed Open Studios Press nationally distributed regional periodicals NEW AMERICAN PAINTINGS Pacific Coast issue. Juror Carl Beiz of Brandeis University in Massachusettes will select among submissions from CA, OR, WA, AK, HI. Entry fee $20 for four slides current work 'as long as it is singular and two dimensional'. I actually made this deadline, wish me luck! Contact http://www.newamericanpaintings.com/26thbook/artinfo.htm Open Studios Press Competitiion, 66 Central Street, #18, Wellesley, MA 02482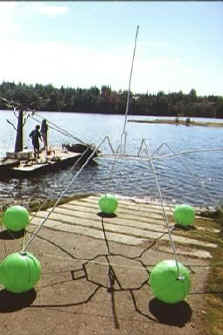 6/17/00 event FLOATABLE ART 2000 displays art that is retrievale, durable, non-toxic, easily launched on Westchester Lagoon. Julie Decker 272-1489 or julied@alaskalife.net for International Gallery of Contemporary Art. My piece had a long shot on Channel 2 news, and a picture of me and Duke Russell rowing my flintstone boat on Channel 11 news. Thanks newsies! Neither broadcast associated any names of the artists involved with their work, so zero personal publicity value, some good public PR for artists in general, I suppose.. Nothing in the papers, except a word in a sports article about a marathon race.
ALASKA NATIVE ARTISTS Registry seeks artists to register for referral service http://www.alaskanative.net 888.278.7424
6/15/00 deadline VISUAL ARTS ADVISORY PANEL seeks members willing to serve a one year voluntary appointment with three of four meetings anticipated. Letter of interest & resumé to Shannon Planchon at the Alaska State Council of the Arts. address above. council is to help with general planning for the visual arts program; to review and make recommendations on the public art audit; and help develop a gift policy for the art bank.
ITNA I got my letter ready, while updating my resumé the operating system froze and puked, I took it as a sign. This cake also seems baked, from what I could learn, Ms Planchon sniffing that they would be looking for people with experience in collections and I guess I chickened out. Now I can't complain about their decisions. Like the proposed de-accessioning policy.
6/1/00 deadline ITNA Arts for the Parks annual competition entry fee $50 per piece submitted (two identical slides). Awards of nearly $100,000 for art included in touring exhibition. Panel of jurors includes Ross Merrill of the National Gallery of Art in DC, Ms Lowery Stokes Sims of the Metropolitan Museum of Art in NYCity, and J.Brooks Johner, of the Gilcrease Museum in Tulsa OK. They will be looking interpretations of the various National Park sites, representating indigenous subjects and qualities of particular parks. Size restriction to between 300-600 square inches. Many generous prizes and awards have been established in other states to encourage participation by regional artists. Alaska has more than a dozen beautiful national parks but has yet to establish a connection to this prestigious national art competition. Any corporate takers out there? PO Box 608, Jackson Hole, WY 83001 artsfortheparks@blissnet.com Director Mr Chris Moran 800-553-2787 www.artsfortheparks.com helped me understand that the other awards are from Natural History Associations. This contest is one of if not the most lucrative art competitions for painters in America today.
6/1/00 deadline ITNA RAGDALE FOUNDATION Artist-in-Residence 2-4 weeks at the Shaw families Ragdale House and 50 acre estate in Lake Forest, 30 miles north of Chicago, Illinois. Travel expenses, room and board, NEA grant administered for 'underserved' states, of which Alaska is one. (also including Arkansas, Delaware, Hawaii, Idaho, Missouri, New Hampshire, North Dakota, Oklahoma, South Carolina, West Virginia, and Wyoming. Is your state on this list?) contact Ms Susan Tillot executive director 847.234.1063 ragdale1@aol.com http://www.nsn.org/lfkhome/ragdale
5/15/00 deadline passed I failed to meet it ANCHORAGE INTERNATIONAL AIRPORT C CONCOURSE % for art single project $145,000. committee will select artists/teams to develop full proposals from the 2-D concept sketches and brief description. Shannon Planchon 907.269.6610 shannon@aksca.org 11"x17" drawings and design philosophy statement.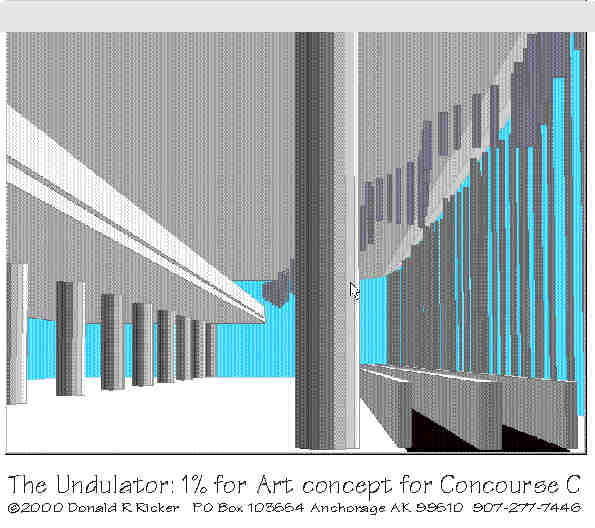 I created a virtual reproduction of the architecture to place my virtual installation, took multiple camera angle 'snapshots', and generally worked like a dog that lost a bone but I missed the deadline, which is one week in advance of when anyone will look at these. Dog gone it. If I had any confidence in VRML on the net, I would post it. Suffice it to say that reducing a 300'x30'x25' volume to a tabloid size of paper was enough of a challenge to be its own reward. And the disappointment and illogic of attempting and failing at this task are the blessings of my chosen way...
Still, it would be uncharacteristic of me not to mention that there are NO sculptors locally selling pieces on the private market for even as much as $10,000. Why do the committees insist on parceling out these large amounts as lump sums? Where is the intermediate level of project which could provide a 'leg up' for those who live here where these money should be spent? The airport has already awarded the major share ($500,000) of the % for art to a Canadian artist. Good on them, but is this good interpretation of the statute that provides for this money to be spent on Alaskan artists? It doesn't benefit the local artists and art market to divide the funds in huge amounts among just a few people, often from out of state and even out of country.
Sadly, when I posed this question to the ASCA administrator of these programs, she unblushingly suggested that I look for smaller scale commissions out of state myself! at http://www.guild.com and http://www.artjobs.com I think she said...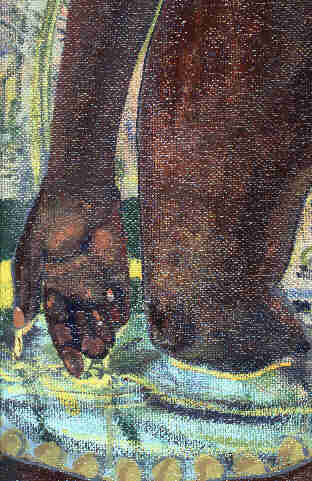 5/12/00 exhibition SALON for the uncurtaining of my latest painting, Seven Sisters. Contact the artist to get details and/or an invitation; this was basically a party at my studio to celebrate the completion of a fresh addition to the NUDE EXCUSE Series collection, as well as the safe return of Portrait Battle and Judgement of Paris from the Florence Biennale with the Italian medallion..
the NUDE EXCUSE Series goes down under to Australia.
Aboriginal myth of the constellation Pleiades.
Party was a blast, including somebody falling into the pool, and raucous discussion of the proposed Museum expansion into pop Science
4/25/00 deadline PHONED IT IN 171 people applied, my submission denied. DIMOND HIGH SCHOOL 1% for Art $400,000 of commissions for interior and exterior work chosen from a review of artists slides. Jocelyn Young 907.343.6473 youngjh@ci.anchorage.ak.us

4/4/00 - 6/4/00 having fun today WHITNEY BIENNIAL 2000 is collaborative host to one-minute peeks at my top page with the ArtYouLike form, and to individual painting pages. Yesterday I dissed the Whitney artists and today I R 1.
A big thank you to Ray & Maura at ®TMark for making it possible for pretty much anyone with initiative to submit a URL that they will put in a frame on their Whitney 'Internet Art' kiosk, or whatever it is. Visit their site, or check this review or one en espanol.
4/1/00 deadline passed to submit slides and proposal for Art Beyond Borders 7SEA ART EXHIBIT in Toronto Canada. ABB is a globe spanning artists collaborative effort to increase international exhibition opportunities for its members. I am proud to say I am a member of Manfred Mueller's ART BEYOND BORDERS. "The basis of the exhibit is an elaboration and experience of how emerging artists from around the world see art in the present and future." For more info regarding the exhibition contact Dominique Hui or Athanasios Tom Kokkinias, Toronto International Art Exhibit, 27 Landmark Court, Unionville ONTARIO, CANADA 415.991.8873 dominique_nomad23@yahoo.com athank@sprint.ca I will participate in this show in September, and am organizing efforts to host an ABB show in Anchorage.
4/2/00 Q Café art show had the following dynamics: 50 artists, 80 pieces. x $10 per piece entry fee = $800. Cost of walls, none. Cost of advertising, none. Cost of reception, none. Ms Kelly provided the cash for the purchase awards. The winners were not notified in advance so that they could be there to receive the applause of their peers. The top prize piece (Flash by Violina Pursell, pastel) was 'far and away above the quality of all the other pieces in the show', according to Mr Andrews. This seemed kinda insulting somehow, would it make you feel proud? The picture was a pastel from a glamour magazine layout of a woman lying on a bed with perfect hair and make-up. Prizes and honorable mentions were given to pieces which were inexplicably much larger than the size limitations stated in the prospectus. A sculpture was included. There were NO visible patrons or collectors, even the sponsor of the contest skipped the awards ceremony. Second prize was a close up of a guy's butt (Daniel by Judy Miller, oil). Third prize was six views of a male model's backside (Growth, Nick Dalman, graphite).It's a little old lady thing. Cariatide wasn't hung on its wall space, but leaned up against the wall with my business card in front of it, of all things!
Another shining example of how the main business of art right now is extracting money from artists. Oh yeah, and hostileapostle of Houston TX says I should quit complaining, get off my sorry ass and get to creating something ... shalam!
4/1/00-4/8/00 Q Café, Richard Andrews, and Dawn Kelly sponsor the exhibition of wall-art (not photographs or sculptures) celebrating the human form with cash prizes ($500, $300, $100) for top three awards and possible purchase awards. Awards announcement and opening reception at 1:00 pm today. 640 West 36th. Learn more at http://community-2.webtv.net/raarts/doc This is not too bad a model for a show, short run, cash awards, corporate sponsorship. Good luck to them. I entered Cariatide an ink on paper drawing from a drawing by Antonio Campi that I encountered in the Uffizzi Gallery drawing room. cf above
3/13/00 deadline " your slides NOT selected for further review" to submit slides for 1% for Art New Russian Jack Elementary School $95,000 in commissions to be made by this committee. for interior artwork in clerestory, surrounding the proscenium in the multipurpose room and the primary library wall. Artists chosen from a review of slides will be paid a small fee for proposals in addition to project budgets. contact Jocelyn Young, 121 West 7th Ave, Anchorage AK 99501 at 907-343-6473
3/6/00 " The Government Hill Art Selection Jury met twice to review slides and they have narrowed their list down (from fifty-one) to twelve finalists. Your slides were NOT selected for further review." Keeps you humble doesn't it?
3/1/00 "Unfortunately, the jury did not select your work for our online gallery. Please remember that when we decline an artist's work, often it is not about the quality of the art, but what our needs are at a given moment. Price, marketability, and similarity to other work on the site are more often the case." Ray Beldner of nextMonet.com
Be sure to check out the work of Nadia Klionsky while you are there. I met her at the Biennale.
2/29/00 magical leap year date, adding on a day to correct for incremental time keeping errors. This note from the museum "sorry to inform you that your piece(s) has been decided not to travel." I imagine that Martyr's Dream took up a little too much weight and space for some of these other venues: Fairbanks Art Association Gallery August 14-August 27, the Kenai Visitor and Cultural Center September 14 - October 14, and the Alaska State Museum in Juneau November 17 - January 13, 2001
2/21/00 deadline GOVERNMENT HILL Elementary School Call for Slides for Art Selection Jury to invite a limited number of artists to submit concepts and to pay selected finalists a fee for final proposals. Budget of $70,000 Contact Jocelyn Young 907.343-6473 Indicate that you want your slides to be placed in the Municipality of Anchorage registry. Ten slides is not a lot to impress a jury with your possible good qualities. Successful submissions will be slides of existing public commissions. I tried anyway, just to get my name on the reject list...
2/16/00 "Alaska artists choose their own way --- What's missing is the brightness of new trends and media commonly found in modern American art. ... Kay Marshall's Rescue Dog was awarded best in show. Loose brush strokes reveal a life-size image of a faithful companion pulling a limp human figure from churning water.... Perhaps it is the large size of the painting that helped win its award." --- Mikki Smith, Anchorage Daily News Wednesday FOOD section reviewing AK XXVIII:
Ooh. Sting!! As one observer noted, "Other parts are not so limp." Making the invitations and the catalog more special by their use of a pertinent detail from Ms Marshall's painting. Careful scrutiny of Rescue Dog reveals the protagonist to be canine above water and aroused human below the surface. BTW, it is the large size of the painting which helps the artist use a gestural expressiveness involving the whole body which is eminently suited to the monumental nature of full figure representations.
1/17/00- 1/15/01 traveling exhibition Anchorage Museum Jurored Exhibition includes Martyr's Dream among other Alaskan artists' work which are being presented to patrons of the museum and at museums around the state at this biennial opportunity for Alaskan artists.Catch the exhibit until February 20 at the Anchorage Museum of History and Art. I especially enjoyed Kay Marshall's Rescue Dog, Lezli Morgan's Girl with a Ball, Gerry Winegar's I Drink from the Toilet at Night (winner of the title fight and a portrait of a beagle). Can't make it personally? Choose AK XXVIII from the index for an onsite review.
2/15/00 EXEGY BOOKSTORE in association with Amazon.com just published my on-line review of Masaccio by John T. Spike. You'll laugh, you'll cry, you'll wonder why unless I get a chance to edit my first book report since grade school. More importantly, you'll have a chance to buy this $125 book and see for yourself how cool Spike and Masaccio are!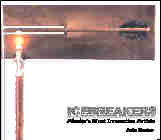 2/7/00 I'm happy to be able to offer copies of "ICEBREAKERS: Alaska's Most Innovative Artists" 1999 by Julie Decker through my association with Amazon.com. I bought one of these beautiful books even though I am not in it, and you may find it useful as an overview of the institution and academia sanctioned artists who formed careers around the defunct Visual Arts Center in the early 1980's. This book features sumptious color and black and white photographs of the works of fifty artists who work in Anchorage, Fairbanks, Homer, or Juneau, as well as some from the villages, with statements and biographies.
In her introduction, Ms Decker details the criteria she proposed for a survey to discover the 'top' artists considered. These include the following: exceptionally high quality production, substantial body of work, respect of peers, income derived from art, recognizable style, individual works make statement 'beyond pure representation', production for 'Art's sake' without commercial consideration, willingness to experiment and 'push boundaries', significant impact on regional art scene.
Such are the seemingly contradictory hoops that Art Heroes have to jump through. Derive your income from art made without commercial consideration, and by experimenting, significantly impact your region without losing the respect of your peers.
2/2/00 dropped off Pre-Flight Inspection (2 of 6) for table top centerpiece to be auctioned at Governor's Awards to the arts ceremonies sometime somewhere. Mine is just to provide fodder for the well-to-do, hopingly get that $100 'honorarium' for donating the work. They broke it and gave it back to me a weak letter. Do not pass go; do not collect $200.
1/20 - 1/22/00 Alaska GOVERNOR'S CONFERENCE on the ARTS in Anchorage for a change and hosting seminars of interest to visual and performing artists. Of note: panel on Public Commissions, artwork photography lesson, gallery presentation, technology, others. Held at the Captain Cook and the Alaska Native Heritage Center, this opportunity for the arts to network was costly if you weren't already subsidized by the University, School District, Native corporations, etc. I could only afford one day, for $65, ouch! What an honor to pay the haves to explain to the have nots why they have naught. Biggest positives of the event: Bill Strickland speech, public commission panel. .. info@aksca.org Alaska State Council on the Arts 907-269-6610
1/16/00 Opening reception Sunday for All Alaska Jurored Art Exhibition was attended by only 257, cost $6.50 a ticket, served cubes of cheese and salad bar fruit, and had only one honest sculpture and three baskets. Martyr's Dream was in the exact center of the biggest wall, hung too low, and featured as a graphic on tonight's Channel 2 news for several fractions of a second! The local Sunday paper said nothing about the opening. This show, billed as featuring the top artists in Alaska and conceived as 'an encouragement to state artists to create higher quality work than they might otherwise' was weakly hung and poorly lit yet excluded more artists than it included. The catalog contained only the names of the artists and the titles of their work for most participants, which is useless to VISUAL Artists.
Several talented and successful local artists I have talked to no longer feel motivated to submit. Will the director and staff ever understand that the museum association's charter purpose is in part to encourage individual artists, and that this is our show, where we want the opportunity to meet our peers and colleagues from around the state and to view their work. The juror's task should be solely to eliminate the incompetent, and the curators task to utilize the space and resources of the museum to best present most of those artists who are confident enough to participate. More rant along this line under Sculptures, Fox & Grapes
Furthermore, any who submit should be invited free of charge to visit the opening. Participating artists should be given the opportunity to include their mailing lists in the invitation mailings, or at least be given invitations to mail out themselves in a timely fashion. The catalog should include photographs of every piece, with the info. Then it is useful more than decorative. The museum should encourage its most cherished patrons to attend and make purchases at a pre-opening reception. Press information is naturally disseminated at such a reception. The juror should be in town for the opening. When jurors are in town, local artists should have the chance to meet with them informally. Additional exhibit related events should be generated during the run of the show.
1/14/00 Anchorage Press listed news of my moves under HAPPENINGS in their weekly entertainment calendar. To wit: "Straight out of Italy --- Local painter Don Ricker just returned from the Florence Biennial, where he was awarded the Premio Lorenzo il Magnifico, a medallion for painting. He'll show his drawings and slides from the trip Friday January 14th at 9pm at the D Street Café"
1/9/00 Anchorage Daily News Sunday Arts and Entertainment section column Art Beat spelled my name right in this newsy fashion today: "No wonder the mail didn't arrive: Fifty paintings by American artists involved in last month's international Florence Biennale, including work by Daily News contributor Donald Ricker, have been organized into a show at the Angel Orensanz Foundation Center for the Arts in New York City. Sort of a post-biennale bacchanal. The press release gives Ricker's address as "Anchorage, AL", but he lives here (in AK), not in Alabama."
1/7/00 Started new page of Videos about Art and Artists to save folks the time of rooting through Amazon. Select ARTVIDEOS from the index.
1/6/00 Note that Anchorage Cultural Council is hosting a new online arts calendar at http://www.artscalendars.com dig away if you will.
---
Have an artist opportunity to submit? Send printed prospectus to Donald R Ricker, PO Box 103554 Anchorage AK 99510-3554 USA . Visitors from other nations around the Pacific Rim are especially encouraged to contact us.
Want more?Check out What WAS New 99!.Choose ITNA to view the artists' opportunities on which I Took No Action.
return to top.